By Damián "Puma" Gaspari
2 de junio de 2021
Photos PH Betina La Plante (www.betinalaplante.com)
Manager, music producer and writer. He made The Rolling Stones a way of life. He was his manager from 1963 to 1967. He also produced his first seven albums. He worked with The Beatles and promoted Bob Dylan on his first visit to the UK. In Argentina he changed the image of Los Ratones Paranoicos, gave them the sound "Stone" on his best albums. Today, from Colombia, his place in the world continues to write and project his life. Enter The Cave: Andrew Loog Oldham ...
A few weeks ago, sad images arrived from Colombia due to the social conflicts that are being experienced. Is the situation really as serious as it is reflected in the media? Do you see a peaceful way out of the conflict?
I do not want to generalize or condemn, but it seems to me that in general, in Latin America and Central America, Covid 19 is just one more bump on the road. For the poor it is just another form of man-made repression and for the rich it is just an inconvenience. The United States raped and plundered the land for the benefit of those who conquered it. Latin America was raped and looted for the benefit of Europe and later North America. I recently read "The Open Veins of Latin America" by Eduardo Galeano. Not much has changed.
How many years have you been in Colombia? Why did he end up living there and in a place quite isolated from civilization? Did Colombia save your life?
Colombia and Argentina, the only two countries that I really know, gave me life, a chapter two, and for that I am grateful every day. My morning prayer is: "God, thank you for the opportunity." It may not have survived in England. I was simply born there, I never felt that I belonged to that place. I recently read an article about the Stones in the early 70's and their problems with money and drugs. I don't think I would have survived that, nor was I qualified to help them move on. Fate took me away from the UK. I really felt at home when my feet hit the ground in the Americas.
I'd like to go over your story a bit. What led you to become interested in the entertainment industry? I know you always had a strong attraction for so-called "pop culture". But was there something else?
At the age of 9 I already knew that what I wanted is what was on the movie screen or on the radio to make it part of my life.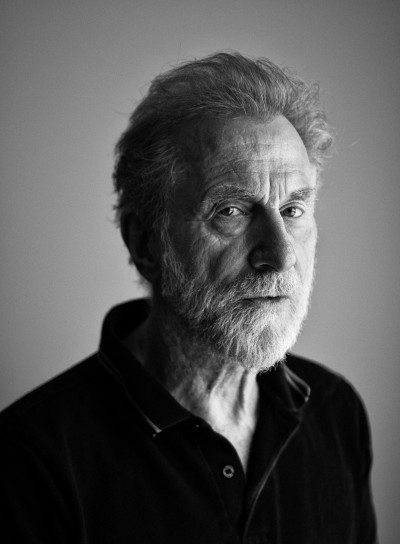 Ph Betina La Plante
When you were a child, did you listen to music at home? What were your first influences?
Frank Sinatra, George Shearing, Peggy Lee, Stan Kenton, Duke Ellington ... which was when the music came from my mother's choice and what I was exposed to. In 1956 they were Elvis Presley, Little Richard, Fats Domino, Gene Vincent and Eddie Cochran.
His first really important job was that of assistant to the fashion designer Mary Quant ... That "pop culture" was first related to fashion in those years and then it expanded to music and other arts, right?
The fashion business was the first pop business in England and the first to take on the United States. Photographers like David Bailey and Terence Donovan, designer Mary Quant, stylist Vidal Sassoon, model Jean Shrimpton, and actors like Terence Stamp and Julie Christie. I fell in the right place when I left school, went straight to Mary Quant's office and asked for a job.
How was the next jump, from the world of fashion to the world of music? How did it really happen?
I knew that Bob Dylan had come to London to provide background music for a BBC presentation "London Jack House on Carroll Street". It was January 1963. The director, Philip Saville, had been on vacation the previous year in New York and had seen Dylan perform at a club in Greenwich Village and was impressed. I remember Dylan's first album had just been released. It was not a very popular music yet. Anyway, I went to his suite at the Cumberland Hotel near the marble arch and knocked on the door. I spent 20 minutes with Dylan and Grossman, and came out with a job promoting the artist for the remaining 10 days they would be in London. They, Grossman and Dylan, were magical together. I knew in that moment that I wanted to do whatever it was they were doing.
That same year you were with Bob Dylan, did press for The Beatles and started with The Rolling Stones. You represented the three most emerging artists of the time at the same time! Over time, did you realize the importance of having been part of that era?
Not really. I was only aware of what I was doing. My ability increased because I was meeting and participating with the right people. That is surely the story of all our lives.
When you started working with the Stones, Giorgio Gomelsky was informally representing them, but everything changed when you joined Eric Easton and they became managers of the band. Do you remember how the first show you saw them was like? What did they have that another band at the time didn't offer?
Wholeness is what they offered. He had no real interest in the blues or a working knowledge of blues artists and their repertoire. He had no point of reference. The effect the group had on me was total. I couldn't compare his version of a Willie Dixon song to the original. I was mesmerized by what they did and the conviction with which they did it. This was not a performance. It was a manifesto. They had no doubts.
We had all grown up with the cloud of stoic acceptance by our peers and parents about the tremendous cost of having won the war against Germany. At that time no one complained or explained what he felt. We war babies had feelings, or rather questions that had not yet been answered by the need to put food on the table. A privileged collection of upper and lower middle class kids who finished art or music school like Pete Townshend, Ray Davies, Keith Richards. Charlie Watts studied art design, Mick Jagger economics. And look for a form of music that we can call our own. For me and the Beatles it was Eddie Cochran and Little Richard, because the Stones and the Yardbirds were muddy waters and Willie Dixon. The unifying act was probably Chuck Berry.
Also, you convinced the Decca record company to sign The Rolling Stones when they had scrapped The Beatles ...
They had rejected The Beatles. George Harrison had told Dick Rowe, the head of Decca, at a conference in Liverpool the week before that the band was good, so it was all divine intervention. All we had to do was make a phone call and introduce ourselves.
Andrew Loog Oldham y The Rolling Stones
The story of how you encouraged Mick Jagger and Keith Richards to write songs is known. So what is the truth about that story that says you locked them in the kitchen of the apartment where they lived and forced them to write?
If they kept recording Rhythm and Blues it wasn't promotion or progress, the rule of diminishing returns was inevitable. Not writing songs put the Rolling Stones on the same level as other groups doing the same. He lived with Mick and Keith. I demanded that they write. They did it. All went well.
Why the "bad boy" image of the Stones? Was it just to counteract the image of The Beatles? Was it necessary to offer something more in the face of so much rebellion that arrived in the 60s?
People say I created the Stones. It is not true. They were already there. They were bad boys when I found them, and I only brought out the worst in them. I knew that the image they had of themselves was the complete opposite of what the Beatles transmitted.
Even John Lennon and Paul McCartney wrote the first Stones hit ... but you had a lot to do with it, right? There was a story where he finds them getting out of a taxi and takes them to the studio ...
Mick and Keith weren't writing at the time (1963) and we were in a rehearsal that wasn't going well at all. We had nothing to inspire us to record the second single. The rehearsal room was in a basement. I climbed the stairs and walked to the right. I have no idea what would have happened if I had turned the other way because I ran into John Lennon and Paul McCartney getting out of a taxi. They saw that I was upset and asked what was wrong with him. They went down to the basement and played the song "I Wanna Be Your Man." The moment I heard Brian Jones play guitar, I knew he had added an element to it that would make it a hit.
Did girlfriends influence the Stones' creative process? At that time, the girlfriends of the musicians traveled to the tours, it happened in all the big groups ...
I never wanted brides to join us. I didn't want them to be on tour or in the studio. There is a whole theme of distraction, because a man behaves differently in front of his partner, it is obvious and that simple.
I want to ask you about Brian Jones, because over time an image of myth has been generated in music, especially due to the tragic death.
We must not forget that the Rolling Stones were Brian's idea for a long time. And that his musical contributions guided the band. But we must also remember that he ended up costing him his life.
How does your working relationship with the Stones end? Do you feel that you could do something else to continue with them or was it a finished stage?
I do not regret anything. He was 23 years old. If I had stayed with the Rolling Stones, I could have died, if not from excess and drugs, maybe from the weather. And it was time to go, and I saw it clearly. He was not prepared to continue with the band. They didn't have the experience to fix their financial situation, nor did they have what they needed to transform them into a long-running band and entertainment brand. Once an artist finds himself, he only needs a manager to collect the money and eliminate the thieves.
Ph Betina La Plante
You also launched your own independent label, Immediate Records, in 1965. The list of artists that the label had was really impressive. Rod Stewart, Chris Farlowe, John Mayall, Small Faces, Fleetwood Mac, and Humble Pie, among other big names. The dream of many, right? Why couldn't it be sustained over time? Did the big labels of the moment push you a lot?
I liked the idea of an independent record company. I was actually copying the idea of Phil Spector, Bob Crewe, Red Bird Records, Leiber and Stoller, Liberty Records, Specialized Records, and I was taking medication and couldn't be bothered to contact Decca Records. Because everything they could tell me, being so high, I was having a lot of fun. He was going through a very arrogant period. So I formed my own record company. It worked well as long as I had the money to finance it.
Rock and roll is synonymous with drugs, excesses and violence, or at least at the beginning ... Why do you think this?
First you use the drugs, then they use you, that's the truth. Drugs don't come to your funeral; They go to the next idiot.
Your first visit to Argentina was in the early 90's to produce Los Ratones Paranoicos, and then you worked with Charly García mixing one of his albums. How do you approach Argentine rock? Did you know anything about our music at the time?
He hadn't worked for 10 years. The invitation was timely and appreciated. All he had to do was wake up and smell the music. And bring in the right engineer. It was Steve Rosenthal from the magic shop studio in New York and later I brought engineer Tim Latham with me.
Los Ratones Paranoicos are a band considered to be the "Argentine Stones"… is that why you immediately liked the project? Even Los Ratones opened for the Stones on their first visit to Argentina in the 1990s.
It was a continuation of my journey with the Stones, but in the musical culture where I had moved in my life. So dealing with Juanse was like the best of times, dealing with Mick Jagger, but in "Spanglish." It was a total blessing to be able to remake a hit movie in my life. The Stones may have been the movie "The Godfather. ", And the Mice were" Godfather 2 "...
Andrew Loog Oldham, Juanse y Pablo Memi
You have written a lot and surely there are always stories to tell. Is writing a book comparable to making a record? Do you have a favorite writer?
For me writing a book was like making a record. I made the track the same as the first draft. I added the over recordings, the colors that could interest, explain or seduce. And then I added the lead voice, the guide ...
My favorite writers are Graham Greene, Anthony Burgess, Gay Talese, Paco Rabanne, Krishnamurti ... It depends on the day and what I'm looking for. As mentioned, I have recently read "The open veins of Latin America" by Eduardo Galeano, and an oral history by Gabriel García Márquez. The first is about Latin pain, the second about Latin fame.
Are you still in contact with any of the Stones? Were you really friends with them or was it just a working relationship between manager and artist?
Basically no. The last time I saw Mick was in Buenos Aires in 94. Charlie and Keith in Seattle in 2005. When you get off the train, the train is still moving. Obviously I was very close to Mick and Keith for an important time. But as Keith explained in his book, we all got along well as long as we were all interested in the same music. It is simply fate ...
What advice can you give with your experience to young people who want to be artists or musicians?
Practice every day, be so good in front of 3 people like 30,000 and always be grateful to have received this gift. Protect, nurture and never betray or abuse her and that will serve for a lifetime.